What is the age limit for DNA tests?

There is no age limit on DNA tests. A DNA test can be performed on an individual at any age.

What is a buccal swab?

Buccal swabbing is a non-invasive way to collect DNA samples from the cells of a person's inner cheek. Buccal means cheek or mouth. A buccal swab resembles a large cotton tip. It is used to collect cheek cells by rubbing the inside of the cheeks. A buccal sample is as accurate as a blood sample. Check Sample Accuracy page to learn more.

What if the father is not available?

It is possible to establish paternity even without doing an paternity test. Paternity can in fact be established by testing relative of the alleged father or your sibling. If only the child and relative of alleged father are tested, the results may not be completely conclusive. If the mother's DNA sample is available for the testing, the results will be more conclusive.

How long can I get my results?

Once all the specimens have been received at the lab, results take an average of 3 business days. Rush results are available upon request.
What is DNA? PART 3: HOW TO RECOGNIZE A FAKE RESULT OR REPORT
Issue Time:2015-10-22
Unfortunately, there are unscrupulous individuals who sell fake DNA tests, and as people don't buy a DNA test every day, it can be hard to know what to look for when choosing a DNA laboratory, or how to tell if the results are real.
Do not fall victim to these scams; start by knowing the basics of DNA testing and request sample reports from the laboratory. They should be able to explain to you in detail about every scientific term and figure shown in a report. In this section, we describe details of fake reports that we have come across.
You will NEVER find a paternity report with more than one Alleged Father and one Child. In the event that a Mother is also involved in the Paternity test, then you will see not more than one Mother's DNA profile also featured on the report, however there will not be a Maternity Index given.
Example 1:
One (1) Alleged Father and three (3) Children and one (1) Known Mother = three (3) separate paternity reports will be issued.
Example 2:
Two (2) Alleged Fathers and two (2) Children and one (1) Known Mother = four (4) separate paternity reports will be issued.
Identify A Fake Report
Below is an example of a fake report. Having two children on the one report is a clear sign that this is a fake report (circled in green).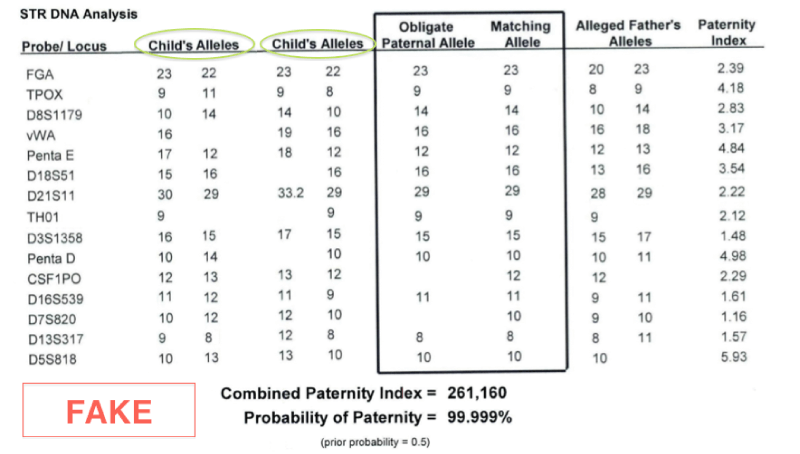 Below is another example of a fake report. How many mistakes can you see?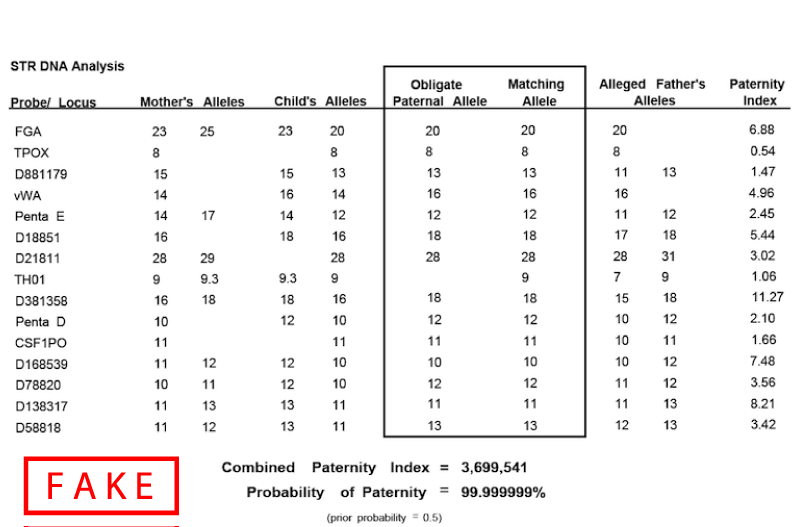 ERRORS IN THE FAKE PATERNITY REPORT ABOVE:

- Incorrect Combined Paternity Index: Multiplying the values in the 'Paternity Index' column gives a Combined Paternity Index of 33,949,326 (not 3,699,541)
- Incorrect Probability of Paternity: The Probability of Paternity should be 99.999 for the given CPI of 3,699,541, or for the correct CPI of 33,949,326, it would be 99.99999
- Incorrect Obligate Paternal Alleles at Locus D58818, D381358
There are many cases of fraud that go unreported simply because of the sensitive nature of this type of DNA test, or because people don't really understand what they're looking at when they see a paternity report. If you think that you have been issued a fake DNA paternity test report, you may contact us at DNA Tech Lab (DTL) for advice. We are always willing to help, obligation free.
You May Concern:
The Danger Of Unreliable Paternity Tests

DNA Tech Lab (DTL) Paternity Testing Process

Don't forget to sign up!
Find out early about all upcoming promotions and new products releases.
Aceprobe Technologies (India) Pvt. Ltd.
Address:

Aceprobe Technologies (India) Pvt. Ltd., Block No. C-2, Plot No. 296, First Floor, Janakpuri, New Delhi, India